Unsere Angebote: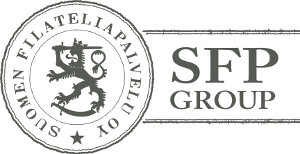 ---
Hellman Auctions Ltd halten jedes Jahr zwei öffentliche Auktionen mit rund 2000-2800 professionell beschriebenen Losen pro Auktion. In jeder Auktion finden Sie eine große Menge an Postgeschichte aus aller Welt, hauptsächlich in intakten Posten und Sammlungen, aber auch als Einzellose. Weiterhin bieten wir Sammlungen und Lose aus Nachlässen und eine große Auswahl an Russland, Baltikum und Finnland. Stöbern Sie durch große und kleine Lose und unserem Angebot und verpassen Sie nicht die Gelegenheit, viele interessante und ungewöhnliche Stücke zu entdecken.

Hellman Auctions ist eine bekannte Tochterfirma von Philatelic Service of Finland (SFP Group). Die SFP Group besteht aus sieben Vollzeit-Mitarbeitern und vielen Teilzeitkräften. Sie ist die größte Firma für Briefmarkenauktionen in Finnland und eine der größten in ganz Nordeuropa. Hellman Auctions führt seit über 20 Jahren Auktionen in Helsinki durch und die SFP Group hält fünf Online-Verkäufe jedes Jahr. Mitglied bei ASDA, IFSDA und ASCAT.
---
Wir akzeptieren folgende Zahlungsmöglichkeiten :
Überweisung, VISA-Card, Master/Euro-Card, Paypal, Euro-Schecks
Hellman Auktionen
BIDDING
You can make advance bids in writing by mail, fax and email or through our website www.filateliapalvelu.com. Old customers may also make bids by telephone. We must have all advance bids by one day before auction day, at 12:30 p.m. online bidding closes on 1 p.m. The auctioneer takes the advance bids into consideration on the actual auction day, starting from the lowest possible price. Bidding will start from the second highest bid shown on our website + one increase, or from the starting price if there are no other bids. We retain the right to reject any bids without having to give any particular reason, or to demand a security for them. The items remain the property of the sellers until they have been fully paid for.
When you want to make a bid for an item at the auction site, hold your personal buyer's number up. The buyer's numbers are available at the registration desk outside the auction site. You cannot participate in the auction without a buyer's number.
BUYER'S COMMISSION
A 22% commission will be added to the final auction price confirmed by auctioneer. Our invoicing applies the margin scheme that is applicable to collector's items and antiquities according to VAT Act Article 79a. Our invoices do not contain deductible VAT.
DELIVERY OF ITEMS
Those who made successful bids at the auction site are required to pay for the items immediately. Payment shall be effected in cash or by bank card. Handling fee of 5 EUR will be added.
We aim to invoice all customers within two workdays of the auction. The items will be sent after the payment has been received. We charge a handling fee of 5 EUR plus postage according to actual mailing costs for each consignment. We ask our customers to inform of any special requests on the delivery before the end of the auction. Where the special requests result in excessive workload, we reserve the right to invoice the costs incurred. The minimum charge is 15 EUR.
RETURNS
Payments, remarks and returns, if any, shall be made within one week of receipt of items. In accordance with the general international practice, collections and lots cannot be returned. Therefore the starting prices of most lots and collections are low, usually just a fraction of their catalogue values. There are always both better and worse items in the collections and lots. We recommend that you come and check them in advance. When you return a single item, please always state your reason, your customer number and number of invoice.
The items which the buyer wants to have certified after the auction(extension procedure) shall be notified to the auctioneer in good time before the auction so that the matter can be jointly agreed upon. Certification shall take place within 20 days from the auction date, and the buyer undertakes to pay all the expenses related to certification thus agreed upon. If the buyer wants to return an certified item, it must be delivered to the auctioneer within 30days from the auction date, in the same condition as it was auctioned.
RAISING BIDS AT THE AUCTION SITE
When more than one bidder holds his or her number up at the auction site, the auctioneer keeps increasing the price in accordance with the table below until there is only one bidder left.
20 € – 48 € eachincrease is 2 €
50 € – 95 € eachincrease is 5 €
100 € – 290 € eachincrease is 10 €
300 € – 980 € eachincrease is 20 €
1000 € – 1950 € eachincrease is 50 €
2000 € – 4900 € eachincrease is 100 €
5000 € – and above each increase is 200 €
×